The experienced team at The Oaks Dental Group can repair damaged or decayed teeth with high quality, custom dental crowns. We make sure the entire process is comfortable and convenient.
Request An Appointment

A dental crown, also called a "cap," is a covering that fits over the entire visible portion of a tooth to the gumline. When a tooth is too damaged or decayed to be repaired with a filling, a crown can be used to protect it and restore its strength, appearance and function.
After performing an oral exam, your Greenville dentist will discuss your needs, budget and lifestyle with you to help you decide on the best type of dental crown for your smile. Once the crown is in place, it will feel like your natural tooth.
Do I Need A Dental Crown?
Getting a dental crown is a common procedure. We may recommend a crown to:
Protect a cracked or broken tooth
Restore a severely decayed tooth
Cover cosmetic defects (i.e., worn, misshapen or discolored tooth)
Strengthen and protect a tooth after a root canal procedure
Repair a tooth instead of placing a large filling
If you have a damaged or decayed tooth, don't put off getting the care you need. The earlier you have the issue treated, the more likely it is that we can save your natural tooth with a dental crown or other restoration. The team at The Oaks Dental Group is here to help you resolve any oral problems comfortably and efficiently.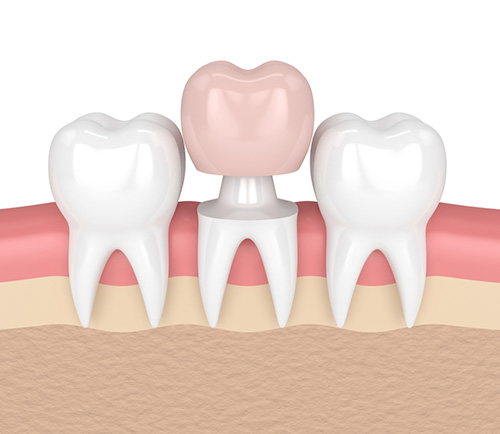 The Dental Crown Procedure
Getting a dental crown usually takes two visits. The Oaks Dental Group team makes sure you're comfortable and relaxed at every step in the process.
At the first visit, your Greenville dentist will prepare your tooth for the crown by removing some enamel. A team member will then take an impression of your tooth (or teeth). A custom, precise-fitting crown will be crafted from the impression. Don't worry, we'll create a temporary crown and place it on your tooth before you leave the office.
Once your dental crown has been fabricated, you'll come back to our practice for the fitting. Your dentist will gently remove your temporary and fit the permanent crown over your tooth. They'll check your bite, as well as the fit and appearance, making any necessary adjustments. When your crown looks and feels perfect, they'll bond it to your tooth.