If you need to replace one or more missing teeth, dental implants offer a natural-looking, permanent solution. Read below or book an appointment to find out how we can revitalize your smile.
Request An Appointment

Implant Dentistry in Greenville, SC
Whether due to severe decay, periodontal disease or an injury, tooth loss happens. Though common, a missing tooth isn't just a cosmetic concern. When a tooth isn't replaced, it can lead to issues with your oral health and overall health.
In the past, you had to choose between a fixed bridge and dentures to restore your smile. Not anymore. At The Oaks Dental Group, we can replace one, several or even all of your teeth with dental implants in Greenville County, SC.
What are Dental Implants?
A dental implant is a small titanium screw that acts as a tooth's root and provides a sturdy foundation for a replacement tooth.
The implant is surgically placed into the jawbone. Over time, the screw fuses with the bone. Once it has healed, a permanent restoration is attached that will imitate the look, feel and function of a natural tooth.
If you have missing teeth, ask one of our Greenville dentists if dental implants are the best solution for you. Our experienced, caring team will make the process comfortable and convenient, so you can get back to your life with a beautiful, confident smile.
How Successful are Dental Implants?
Dental implants are safe, effective and have an overall success rate of 98%! It's important to note, however, that the success of the procedure heavily depends on how well you care for your replacement tooth. Treat your dental implant just like you would your natural teeth. Be sure to diligently brush and floss to keep your implant and the surrounding teeth and gums healthy.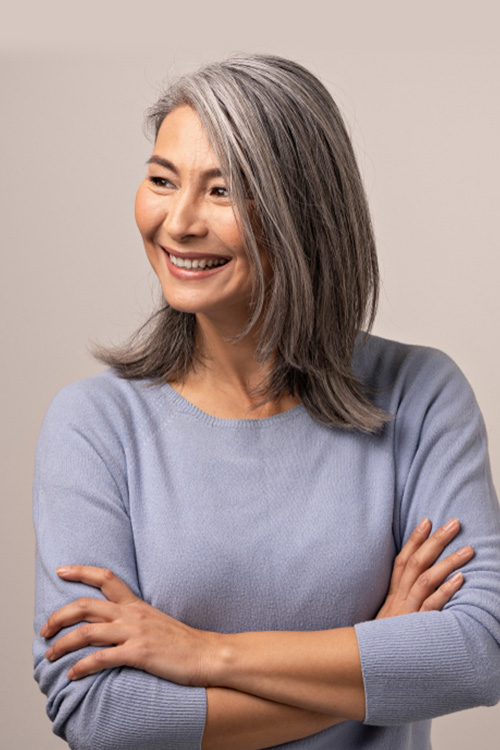 The Benefits of Dental Implants
Choosing to have a dental implant procedure offers a variety of positive benefits, including:
Convenience
Wearing dentures can be inconvenient for a lot of people. Even a dental bridge requires extra oral hygiene measures. Dental implants, on the other hand, are just like your natural teeth and you care for them the same, making them more convenient.
Makes Eating Easier
Missing teeth can interfere with your ability to eat. Many patients who have dentures also struggle with eating. Dental implants let you bite, chew and swallow naturally and confidently.
Improves Speech
Some denture wearers have trouble speaking when their dentures are in place. Dental implants are streamlined and feel completely natural, allowing you to speak clearly.
Comfortable
Dental implants fuse with your jawbone. They don't slip and slide or cause irritation, meaning you won't experience the discomfort that can occur with dentures.